The James Bond Films
Kenneth Adam

is a

German

-born

British

motion picture

production designer

most famous for his innovative and futuristic set designs for the

James Bond

films of the 1960s and 1970s s
uch as;
Dr. No
(1962),
Goldfinger
(1964),
Thunderball
(1965),
You Only Live Twice
(1967) and
Diamonds Are Forever
(1971).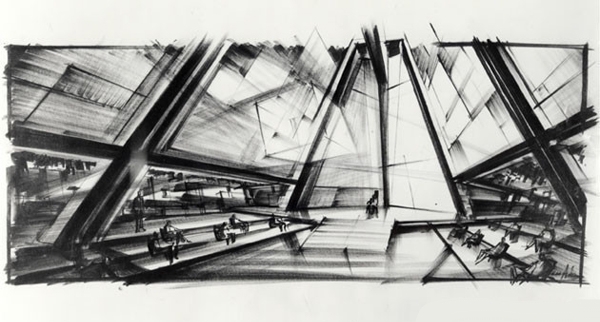 (Top, Figure 1. Bottom, Figure 2)
I find the angle of the walls in Figure 1 intriguing, it draws your eye in and instantly tells you that this is not a ''normal'' room. Although Figure 2 is a lot more simplistic and stylized, it still works as a modern architectural sketch of the 21'st Century.
Ken Adam Biography
- Accessed on 14/10/2013
http://en.wikipedia.org/wiki/Ken_Adam
Illustration List:
Figure 1
- Accessed on 14/10/2013
http://jamesbond.wikia.com/wiki/Ken_Adam
Figure 2
- Accessed on 14/10/2013
http://whatsgoingonatconran.wordpress.com/tag/james-bond-design